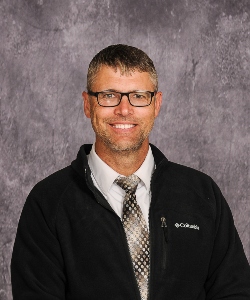 Mr. Jamie Ruehling
931-779-3129
My name is Mr. Jamie Ruehling and I am a lifelong resident of Grundy County. I graduated from Grundy County high school in 1992. I attended college at Cleveland State Community College, where I played baseball while getting my Associates Degree. I then attended Tennessee Technological University while continuing to play baseball while I earned my Bachelor's Degree. After I graduated from Tech, I became a graduate assistant coach for the Golden Eagles baseball team while earning my Masters Degree. I then started working as a teacher in Grundy County as a teacher and an assistant baseball and football coach at GCHS. In 2007 I earned my Ed.S Degree in Instructional Leadership from Tennessee Tech.
I became principal of Swiss Memorial Elementary in 2008. In 2010 I became the Assistant Principal and Athletic Director at Grundy County High School. In 2014 I became the Principal at Grundy County High School. In the summer of 2016 the opportunity to return to Swiss Memorial came open so I chose to come home where I have continued as principal through the present day. In 2019 Swiss Memorial became a Rewards School, which is the highest honor a Tennessee school can achieve.
I have taught ELA, Science, Special Ed., and Physical Education at the Elementary level in Grundy County. I taught Physical Science, Strength and Conditioning and Wellness at the high school level in Marion County. I also taught college classes as a Graduate Assistant at Tennessee Tech.
Education is my passion. My goal for our students at Swiss Memorial Elementary is to receive the highest quality education in a safe, loving and caring environment that will help them become positive and productive additions to society.
I married my wonderful wife, Amanda, in 2002, who is also an educator in Grundy County. We have three children, Jaden, Jalie, and Jeter whom I love watching excel in sports. I have had the pleasure to coach all three in basketball and baseball in addition to coaching the boys in football. When not at sporting events I enjoy spending time with my family and spending time outdoors. I am an avid hunter, fisherman, and a New York Yankees fan. I am a member of the First Baptist Church of Gruetli-Laager.